Animated Preview of Gothic Inspirations: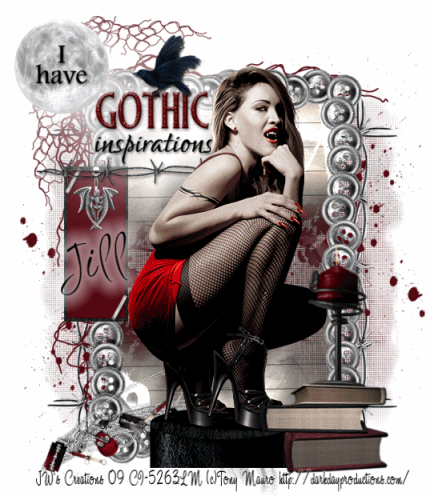 This tutorial was created with a scrap by one of my best girls in the scrapping world, my
Beaner, lol Jill
! She created this kit because she said she was inspired by me, and WOW what a frickin' amazing kit. This kicks all of mine in the behind! Lol..more like she has inspired me!! Thank you so much
Jill
!!
You can find this kit is a PTU only kit and can be purchased at
Just 4 Taggers
!!
Please visit her blog
Created By Jill
for more amazing kits!
NON ANIMATED PREVIEW:
YOU DO NOT HAVE TO LEAVE THIS SITE~READ BELOWTo view this tut in full, please see the top tool bar below and click on the full screen, this will enlarge it and then you can view closer as needed. :) Hope you like it.TIP: Once you enlarge it, It gives you the option at the top, to slide it to still view it larger! Click the - or + or you can slide it!
Gothic Inspirations